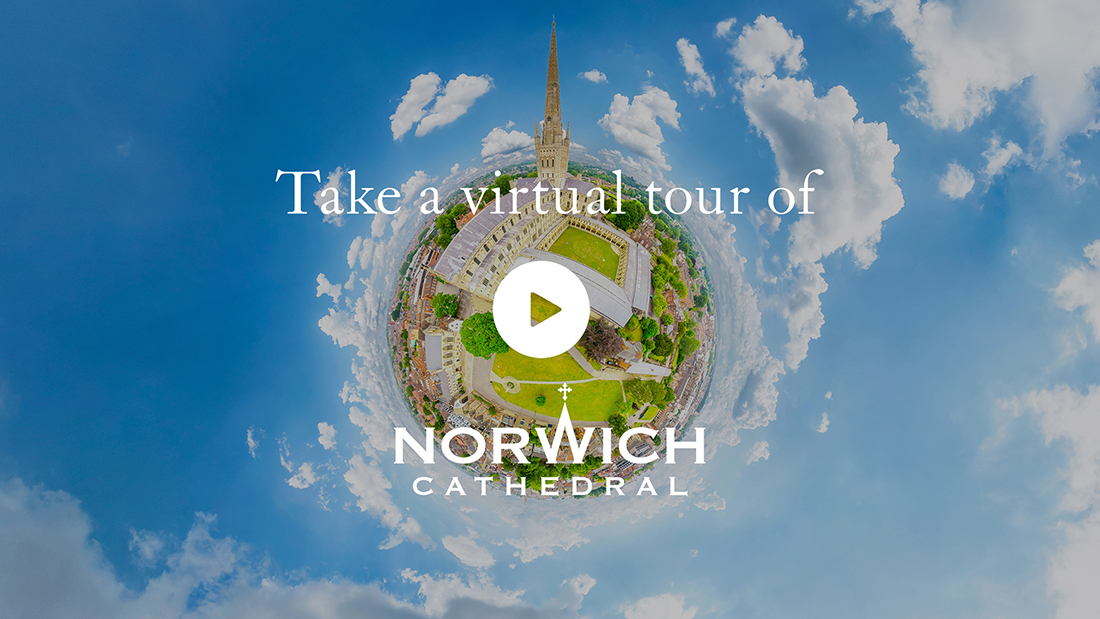 Norwich Cathedral is one of the most iconic landmarks in the region and a leading attraction in Norfolk. It was a great privilege to work on this exciting project and create a digital recreation of this magnificent 900-year-old Cathedral and its Cloisters.
The 3D 360 virtual tour starts from a beautiful aerial 360-degree view of Norwich Cathedral and the wider Close captured by one of our drones. Visitors can explore this birds-eye view by dragging the image left or right to rotate it a full 360 degrees and click on any 'information' (i) symbol to reveal exciting facts and fascinating information about the Cathedral.
The virtual tour then invites visitors into the Cathedral through the Great West Door. Once inside, visitors can virtually walk down the Cathedral aisles, marvel at the stunning architecture, stain-glassed windows, and fine craftsmanship. Visitors can explore at their own pace and enjoy the Cathedral's rich history from any device from anywhere in the world, whether that is discovering all five of the Cathedral Chapels, getting up close to The Despenser Reredos (c. 1380) in St Luke's Chapel, virtually exploring the Cathedral Cloisters or visiting the grave of the inspiring Norfolk nurse Edith Cavell,
To ensure the Norwich Cathedral virtual tour was exciting, interactive, and engaging for visitors, we added custom multimedia tags highlighting unique features and points of interest and embedded audio excerpts to give visitors a taste of the sublime sounds of the choir and grand Cathedral organ.
To find out how a virtual tour could benefit your heritage site, museum, historic building, or visitor attraction,
get in touch!